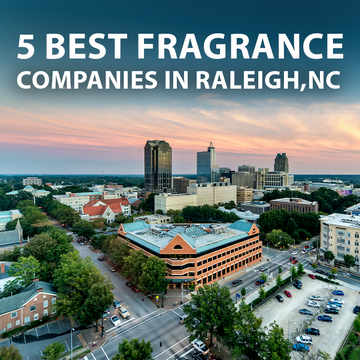 Raleigh, North Carolina, a city known for its rich history, vibrant culture, and thriving businesses, is also home to a burgeoning fragrance industry. The Tar Heel State's capital is a hub for artisanal fragrance makers and renowned perfume houses. In this blog post, we'll delve into the top 5 fragrance companies in Raleigh, NC, that have been captivating the olfactory senses of both locals and fragrance enthusiasts from afar.
1. Nazar Fragrances:
Nazar Fragrances, nestled in the heart of Raleigh, has quickly gained a reputation for its exceptional fragrances that embody elegance and distinction. With a commitment to quality and a passion for crafting unique scents, Nazar Fragrances is a standout in the local fragrance scene. Their artisanal approach to perfume-making ensures that each fragrance is a work of art, setting you apart from the crowd.
Some of the Their Staples include: Baccarat Rouge 540, Black Leopard, Panic Attack, Royal Paradise, Born in Roma, Drip, Black Butter, Mango Milk, Coco Cabana, Drip, and Pink Smoothie
They Have Over 600, 5.0 Google Reviews  
2. Southern Elegance Candle Co.:
While candles may not be traditional fragrances, the Southern Elegance Candle Co. has taken the world of scents to new heights in Raleigh. Their hand-poured soy candles come in a variety of captivating fragrances, from sweet magnolia to bourbon and brown sugar. These candles not only fill your home with delightful aromas but also add a touch of Southern charm to your space.
Southern Elegance strives to create candles and bath products that capture who we are as a couple, a family, and Southerners growing up in small towns, spending summers with Grandma, working in the fields during the week, fishing on the weekends, singing in church on Sundays, catching lightning bugs at nights, sipping sweet tea to cool off from the summer heat, swimming in the Oceans, hanging with friends, canning jams and making cobblers from the fruit trees in the yard and enjoying the simple life.
3. Escentuelle
Located at 417 Kildaire Farm Rd Cary, NC 27511. Escentuelle is a boutique perfume company known for its exquisite artisanal fragrances. They offer a wide range of scents, from classic floral and oriental to unique and custom blends. What sets Escentuelle apart is their personalized fragrance creation service, where you can work with their skilled perfumers to craft a signature scent that perfectly suits your personality and preferences. The attention to detail and dedication to customer satisfaction make Escentuelle a must-visit destination for perfume enthusiasts in the RDU and Cary.
4.La Parfumerie USA
La Parfumerie USA was established in October 2017 and is a female-led small business. La Parfumerie was started without any investment but with a big faith in our mission and vision. In five years, we were able to open our boutique and offer national shipping through our website. Besides presenting a wide range of niche perfumes, we also organize educational events, such as our Meeting with Perfumers Series, and offer a Personalized Perfume Session.
5. Oak City Scents Candles
Nestled in the heart of Raleigh, Oak City Scents has become a local favorite for those seeking unique, handcrafted fragrances. Their commitment to using high-quality, natural ingredients results in exquisite scents that reflect the charm and personality of the city itself. From floral and citrusy notes to woody and spicy accords, Oak City Scents offers a diverse range of fragrances that cater to various tastes.